THURSDAY: Webinar with IBM – Best Practices for Attracting Candidates on a Recruiting Budget
November 15, 2017 at 01:11 PM — Post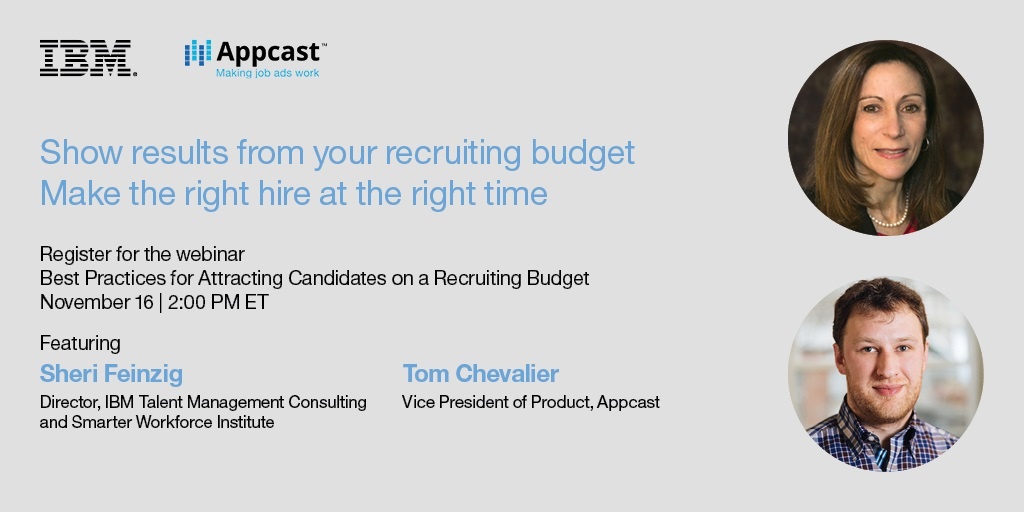 Competition for top talent is fierce – you have shrinking unemployment rates, widening skill gaps, and a list of open req's that never ends.  Nowadays, you just can't afford to go fishing in the pool at a given time and pray for the purple squirrel.  Organizations need to position themselves as 'the place' that passive (and highly skilled) job seekers are attracted to.
Additionally, research from IBM has found that hiring managers and HR professionals regret 40% of their hiring decisions. Those are costly mistakes. Identifying the right candidates, guiding them through your recruiting process, and providing a positive candidate experience are essential to getting the most from your budget. 
Join Appcast's VP of Product, Tom Chevalier and IBM's Sheri Feinzig, Director of IBM Talent Management Consulting  and Smarter Workforce Institute, on Thursday to take a deep dive into the candidate experience and how you can improve yours to better attract quality hires that you won't regret later!
Here are the details to join the webinar:
Topic: Best Practices for Attracting Candidates on a Recruiting Budget
Date:

 Thursday, November 16th

Time:

 3:00pm ET
During the webinar, you will learn:
Research insights into the importance of candidate experience and tips for managing candidate relationships

How to optimize budgets by tracking and analyzing metrics including time-to-apply, apply rate, cost-per-hire, and more

How to drive optimal performance from your job advertising tools

How to convert high-quality candidates to successful new hires
Join the webinar to learn all that you need to know about filling your hiring funnel with top talent and staying on budget!