[Blog Series] The 5 P's of Recruitment Marketing
June 26, 2018 at 01:02 PM — Post
Recruitment marketing has long followed in the footsteps of traditional consumer marketing, particularly since the digital age emerged and marketers continue to pursue digital tactics more and more.  Recruitment marketers have the benefit of taking those 'lessons learned' and well-tested tactics from the world of consumer marketing to ensure the hiring funnel has the applicant volume, quality and efficiency it needs for an organization to grow and stay competitive in today's talent-crunched landscape.
In marketing theory and strategy, pundits will often reference the 'marketing mix' or the '5 P's of Marketing' – so what does this model look like for recruitment marketing?
What is the marketing mix?  
The marketing mix is defined as the "set of marketing tools that the firm uses to pursue its marketing objectives in the target" (Kotler, 2000). In other words, it's that perfect combination, aka. the 'sweet spot', of strategy, tactics and execution that best align with the motivations, behaviours and ever-changing needs of your target audience.
The marketing mix has been organized into 5 (originally 4, and now some would argue 7 or 8, particularly in service marketing) P's, which are:
Product

Price

Place

Promotion

People
The 'extras' are:
Process

Physical evidence, and

Performance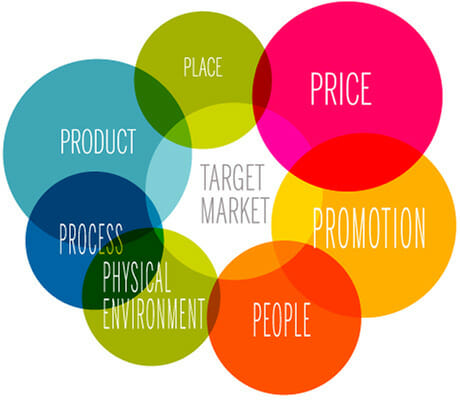 I'm sure you can already see some alignment in how this framework fits with recruitment marketing and how you can use it to ensure that your recruitment marketing efforts produce the results you want (and need!).
Over the next few weeks, we'll break down the 5 P's of recruitment marketing, and touch on the extra 3, to give you more insight (and tips!) into how you can build an even better recruitment and talent acquisition machine. Stay tuned!
In the meantime, check out our latest whitepaper from thought-leader, Allan Schweyer, titled 'The Rise of the Digital Talent Marketer' to whet your appetite for understanding marketing's continued prevalence in recruitment and talent in modern organizations everywhere.
Source: Kotler, P., Marketing Management, (Millennium Edition), Custom Edition for University of Phoenix, Prentice Hall, 2000, p. 9.